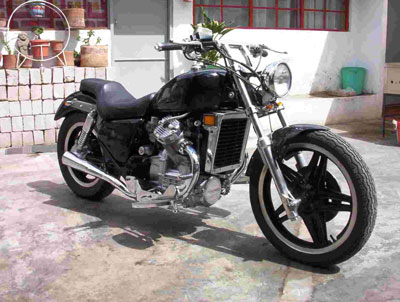 Welcome to the Dutch Honda CX-V club website. This brief English-language introduction is for foreign visitors to our website. Although this site is primarily intended for Dutch speakers, please feel free to have a look around. We hope it demonstrates our enthusiasm for this Japanese vintage bike.

We are glad that the amount of visitors from abroad still increases. The love for this unique motorcycle is universal and we are happy to welcome friends from all over the world! Regularly we receive emails with requests to translate the site to English or German. We would love to: the more people we can reach and serve, the better! But being realistic: it will be a huge amount of work and besides that the site constantly updates, grows and changes so that maintenance in three languages will be the next problem. So, after consideration we decided not to put effort in translating the site but put all effort in enhancing the Dutch content.
However: there's a possibility. There are online (real time) translate programs. They are not (yet) perfect. Not at all, in fact. But sometimes it is better to have something than nothing. So, for an automatic generated translation (or just for a good laugh) click here:
The Dutch CX V Club, translated by Babelfish
(We do NOT take responsibility for translated content)
At this moment our website community counts over 700 CX-riders, mostly from The Netherlands and Belgium. We share our knowledge of CX engineering, restoration and maintenance through the bulletin board (prikbord), where we also place classified adverts and announcements of upcoming events.

On the link page you will find an overview of other CX/GL and Turbo clubs, suppliers of spare-parts, bulletin boards, etc. Please don't forget to visit the showroom. Here you will see standard CX500's, Customs, GL and Euro models. We also have some specials: a CX500 with a 650 engine, two trikes and a Custom bike that runs on LPG (Liquid Propane Gas), as well as some street-fighters, café racers and a few ratbikes.

Please feel free to leave your message in the guest book. Your comments are most welcome!

Coen Berends, founder
Frans Koenn, founder/webmaster